What many sustainable brands have in common is quality and durability. With slow fashion comes more responsibility for the fabrics, craftsmanship, and highly-selective designs that make it to each collection. There is a growing number of sustainable brands that design modern and timeless garments for men.
Here are 10 of our favourite sustainable, ethical, and eco-friendly brands (clothing and shoes) to look out for in 2021: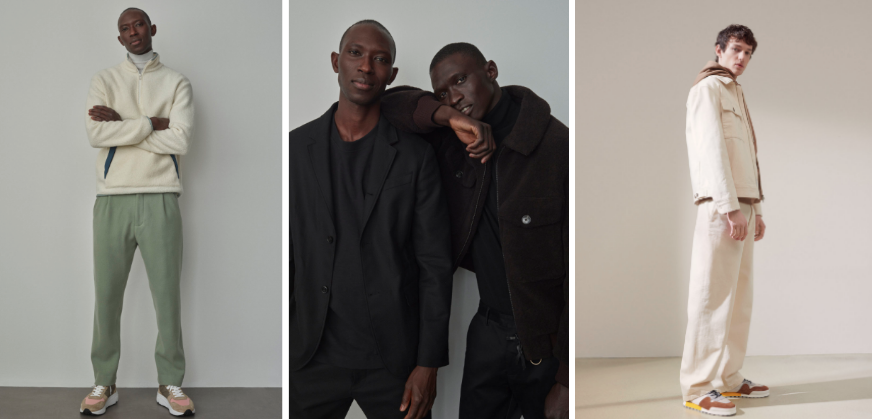 Hamburg-based Closed started off as a denim brand, but it has now become an international multi-category retail brand that continuously improves its sustainability practices. Respectfully, they don't claim to be an eco brand, even though they do have a more sustainable and ethical business model and supply chain than many brands who claim to be. They use local manufacturers (80%) and sustainable fabric in their clothes.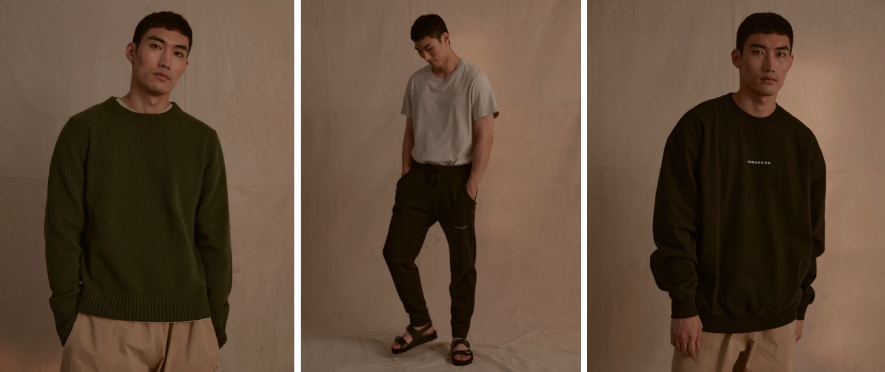 Riley Studio is positively enthusiastic about new innovations in textile and has successfully adopted various eco-friendly materials into its collections, including ECONYL® Yarn, Q-NOVA® by Fulgar, Recover® Yarn (recycled textile and plastic waste), waxed cotton, organic cotton and the list goes on. Riley Studio works with certified eco-friendly materials and audited factories to guarantee safe and fair working environments in its supply chain.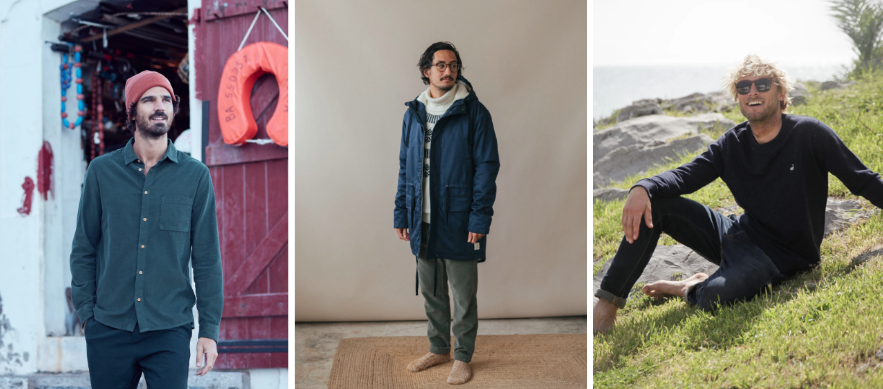 What started as a love and adoration for our ocean, turned into Two Thirds, a brand that has the ocean running through its veins. From their choice of colour and fabric to their production location, you can sense the close relationship this brand has to nature. Two Thirds offers quality garments for Him and Her, everyday casual wear with a touch of mountain romance. The efforts made to protect our big blue planet and the people and animals it touches upon is well reflected in their collections and company values. All production is located in Portugal, close to Spain, where the brand is based.
What never goes out of style? Denim. Mud Jeans makes timeless denim clothes and accessories, and does it ethically and sustainably. What we find most interesting with the brand is their circular program that gives you the opportunity to lease your jeans. You might be familiar with the concept of leasing a car? Or real estate? Why not lease your jeans? It keeps your wardrobe minimal, updated, and materials in a recyclable loop. We are certainly very excited about this project!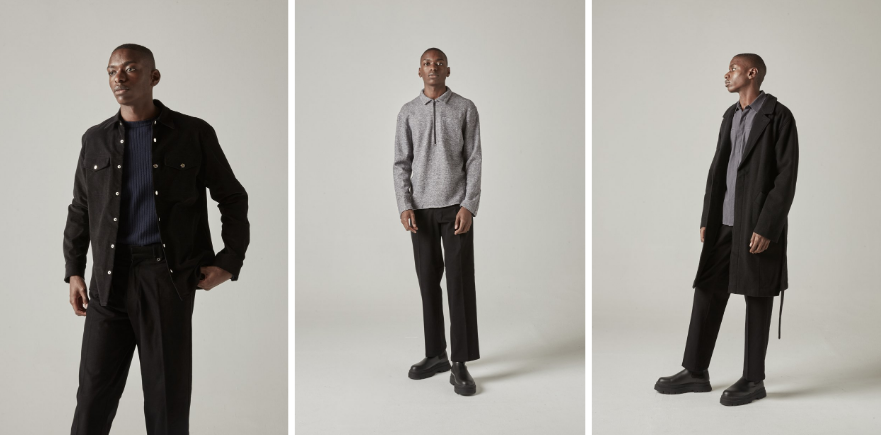 Unlike any mainstream brand, Walkers Appeal oozes personality and strong core values. This is a Spanish brand that draws its inspiration from cinema and Japanese aesthetic and culture. The choice of colors, cuts, and fabric resonates with a modern man's wardrobe. Walkers Appeal designs and manufactures locally in Spain.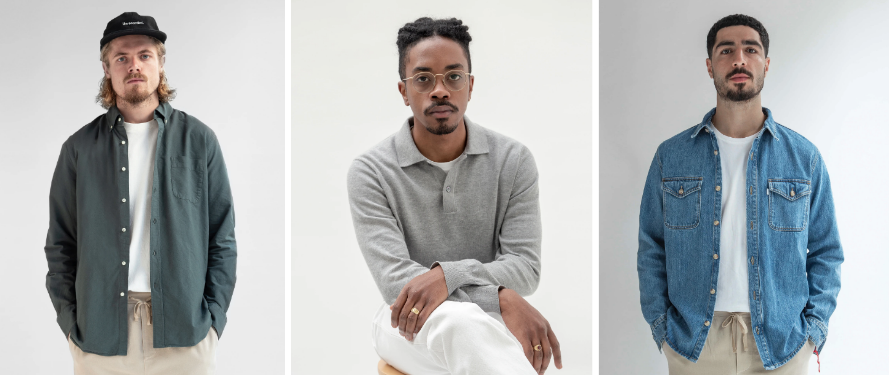 "Permanent" is the keyword to Unrecorded designs and culture. It strives to create quality pieces made to last. Each design is seasonless and remains in its permanent collection. This means timeless clothes that never run out of style. You can find classic GOTS certified t-shirts, denim shirts, and knitted polos. Although their photos are mainly of men, we could spot some women in their unisex oufits. Not only is the fabric eco-friendly, Unrecorded goes the extra mile to disclose all its factories and pricing strategy. This is a fully transparent company that has our back.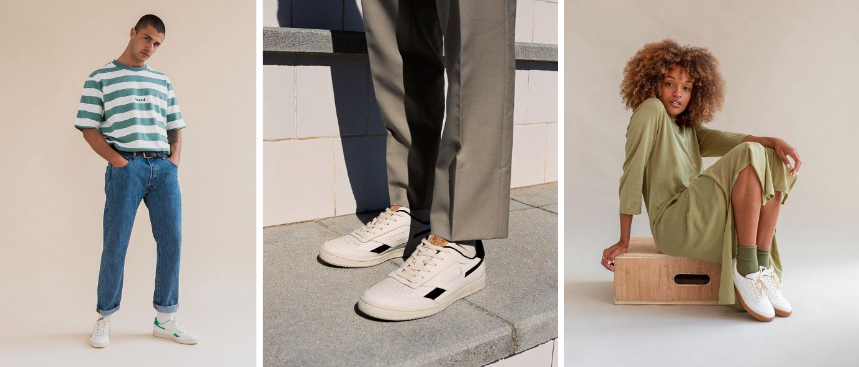 Discover classic and timeless sneakers that can be easily dressed up or down, and for all genders. Saye offers versatile kicks without compromising design. Saye discloses all materials used on each part of the sneakers, and all their tanneries are audited and certified. They use recycled, upcycled, vegan, and certified sustainable materials to produce their shoes. Saye is based in Barcelona, Spain where the design studio is located, while they produce locally in Europe.
The signature look of Flamingo's Life sneakers is clean and white with a pop of colour. They have a selection of both low-top and high-top sneakers. By manufacturing and producing all their products in Spain, where the company is based, Flamingo's Life significantly reduces carbon footprint while also ensuring an ethical supply chain. Flamingo's Life sneakers are not only made out of vegan, but also biodegradable materials. The brand likes to apply new textile innovations into their selection of fabric, including hemp, bamboo, and corn waste. For each sneaker sold, they will donate to NGOs of environmental causes as a cherry on the top.
If you haven't heard of Veja sneakers yet, get ready for a treat. VEJA means "look" in Brazilian, and this brand definitely has the world turning eyes. This French sneaker brand has been a pioneer in making sustainable and ethical sneakers "cool". Their clean and timeless design is suitable for any outfit and style. We especially love their uncompromising commitment to sustainability and transparency of their supply chain. Their honest and humble culture is respected among its peers and sneaker fans.

Nordic and Japanese simplicity and quality design is the core inspiration for Collective Canvas sneakers. The name is self-explanatory, all of the sneakers from Collective Canvas are of, you guessed it, canvas material. A classic and durable fabric that goes with any outfit. This New Zealand-based brand uses naturally grown materials (97%) and works directly with its single factory in Dongguang, China. Employees are treated fairly and work under ethical conditions.